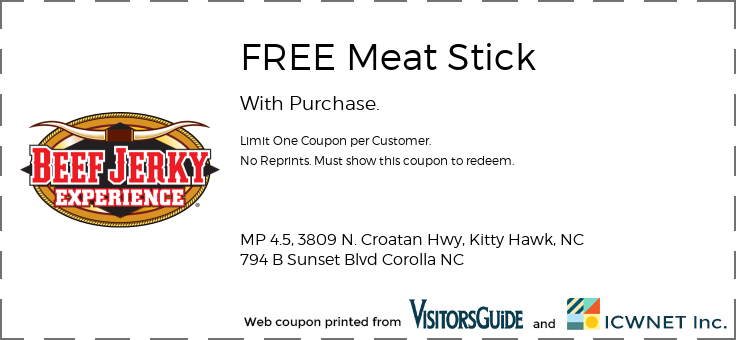 print

The Beef Jerky Outlet story is pretty simple really. Take the highest quality USDA approved jerky you can find and build a store around it. Make it in small batches so it will always be fresh. Fill the store with so many varieties and flavors of "made in the good old USA" jerky that folks will be amazed. Oh yeah, make the experience fun too. Give out lots of free samples so guests will not HOPE they like their choice . . . they will KNOW they LOVE it! Fill in any extra space with some of the best popcorns, cheeses, peanut butters (the list goes on and on) and even throw in some bug suckers . . . just for fun. The simple idea is - everyday and in all ways create an atmosphere that jerky lovers and their families can come into and relax. If you see some of our guests kind of dancing around the store while sampling some truly great jerky you'll get what we mean.

Now it might seem like the idea was obvious. After all, people love great beef jerky right? Why wouldn't there be a store featuring it? Well you should have seen the looks on some of our relative's faces when they heard what we were up to. You should have seen the look on our BANKERS faces when we pitched the idea to them. Horror films have less tormented looking faces in them than what we were looking at across the desk. So we gave them a little jerky and the rest as they say is history.

So the long and the short of it is, we took a simple idea and added some fun. We opened the doors and hoped you would come in. And boy have you come. Every day we are motivated to keep it going and keep making it better. It's all for you, the jerky lover who for too long was neglected and force fed inferior mass market jerky. We hope you enjoy it as much as we enjoy doing it for you.
SPECIAL PROFILE———
A Flavorful Experience
Family Brings Savory Snacks to the Outer Banks
Amy McDonnell and her husband Kevin McCoy have vacationed in the Outer Banks for years. In 2014, they purchased their dream home on the beach, with hopes of one day retiring there. Both lawyers, McDonnell and McCoy figured it would be a long time before they would be permanently at home in the Outer Banks.

But when the opportunity to make OBX their primary residence arose in 2016, they jumped at the chance.

"We've wanted to live here for a very long time," McDonnell says. "When we decided to make the move, we wanted to do something to immerse ourselves and truly become part of the community."

What better way to connect with the community than over delicious snacks? The couple, along with McDonnell's father, decided to open Beef Jerky Outlet in Kitty Hawk in 2017. The following year, they opened the Corolla location. This year, the stores are being rebranded as Beef Jerky Experience, to better reflect all that the place has to offer.

"We love that the franchise is a family-owned business, and all the jerky is made by them in Tennessee and Michigan. The beef jerky is made from high-quality eye of round beef in small batches, which is what makes it so great," McDonnell says.

So, what makes Beef Jerky Experience an experience? For one, there are over 100 varieties of jerkies to choose from with flavors ranging from Honey Jalapeno to Smoked Korean Barbeque. Customers can also select from a wide range of wild game, including elk, buffalo, salmon and even kangaroo. Non-meat eaters can also enjoy the experience with Beef Jerky Experience's line of vegan jerky and pork-less pork rinds. Additionally, they offer gourmet popcorns, peanuts, hot sauces and candy.

"There's something for everyone here. Our jerky is a great snack for travelers and people spending time outdoors hiking or hanging out at the beach," McDonnell says.
–Interview by Chelsea Sherman

Thanks from your locally owned and operated Beef Jerky Outlet!