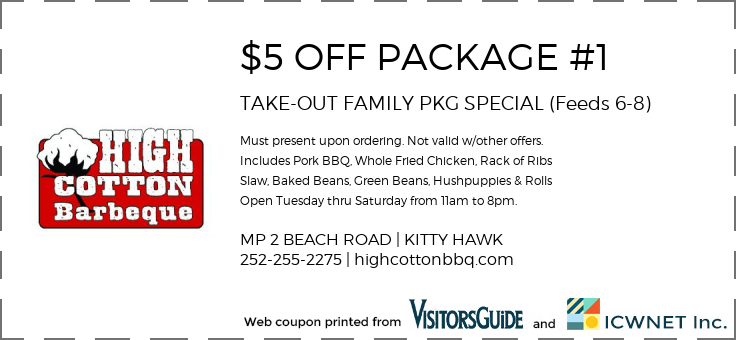 print
Any trip to North Carolina isn't complete without North Carolina barbecue. The unique flavor of eastern Carolina style barbecue can be experienced at its very best at High Cotton.
Once you walk in High Cotton and you'll work up an appetite. The restaurant is filled with the aroma of slow cooked barbecue. High Cotton uses Hickory coals to slowly smoke the barbecue, producing a sweet, tender meat that's pink on the inside and brown on the outside.
The enormous dining room is filled with photographs depicting the heritage of barbecue in North Carolina. High Cotton offers a very laid back and casual atmosphere, perfect for the entire family. The wood floors and skylight offer an upscale feel to what is truly a southern country dining room with gingham table cloths.
The barbecue is available for dine-in or carry-out. So consider picking up lunch or dinner on the go, and don't forget our down-home seasonal sides!
Consider High Cotton for catering as well. The menu offers a great selection for events and holidays.
Hours vary seasonally, it's best to call for accurate information. However, likely summer hours are Monday through Saturday 11:00am to 8:30pm and Sunday 11:30-8:30. Winter hours are Monday through Saturday 11:00am to 8:00pm.