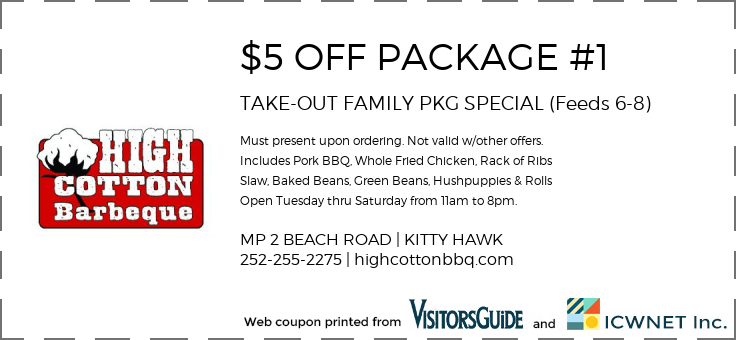 print
High Cotton BBQ will continue to offer take-out service *only*, with optional curbside service, in the interest of ensuring the cleanliness of our restaurant, and the health and safety of our customers and staff.
Orders can be placed in person, by phone at 252-255-2275, or at www.highcottonbbq.com.
We are open Tuesday through Saturday, 11-8.
Any trip to North Carolina isn't complete without North Carolina barbecue. The unique flavor of eastern Carolina style barbecue can be experienced at its very best at High Cotton.
Once you walk in High Cotton and you'll work up an appetite. The restaurant is filled with the aroma of slow cooked barbecue. High Cotton uses Hickory coals to slowly smoke the barbecue, producing a sweet, tender meat that's pink on the inside and brown on the outside.
The enormous dining room is filled with photographs depicting the heritage of barbecue in North Carolina. High Cotton offers a very laid back and casual atmosphere, perfect for the entire family. The wood floors and skylight offer an upscale feel to what is truly a southern country dining room with gingham table cloths.
The barbecue is available for dine-in or carry-out. So consider picking up lunch or dinner on the go, and don't forget our down-home seasonal sides!
Nobody Does North Carolina BBQ Like This NC Native
No stranger to the Outer Banks restaurant business, Will Thorp moved to the Outer Banks in 1984. After years spent learning the ropes in culinary school, he began his restaurant career working at Kelly's and other famous restaurants up and down the beach. In 1989 he opened Tortuga's Lie and in 1993 he started the Rundown Cafe.
A native of Rocky Mount, North Carolina, Thorp has always had a love and appreciation of real southern food. So in 2002, he found his calling, and decided it was time to open an authentic, Eastern North Carolina Barbeque restaurant right here on the Outer Banks. Nearly 20 years later and the rest is history. High Cotton Barbeque is loved by locals and has become one of the "must visit" establishments for any Outer Banks vacation.
Consider High Cotton for catering as well.
The menu offers a great selection for events and holidays.
FULL SERVICE CATERING
Parties of 25 or more.
Full Service Outer Banks catering includes servers who handle the details before, during, and after the meal. We provide cloth-draped tables for buffet-style service, and black iron chafing dishes and baskets to capture that Southern charm. All basic caterings include chopped slaw, baked beans, cornbread, sandwich rolls, and beverage service (tea, sodas, bottled water) as well as paper products. The prices depend on the meats you select.
DELIVERY & SET-UP
Parties of 20 to 50.
Delivery and Set-up for our Outer Banks Catering is exactly as it sounds. We deliver the food, set it up in disposable dishes and the rest is up to you! (Aluminum pans and disposable chafers included for parties of 25+)
Standard side dishes included in price are baked beans, chopped slaw, cornbread and sandwich rolls. We provide paper products. Beverages are NOT included.
WHOLE HOG CATERING
Parties of 50 or more.
We will bring a fully cooked whole hog on a portable smoker to your Outer Banks Catering location for a true Pig Pickin' experience!
Please call 252-256-2377 with any catering questions OR fill out this form to initiate your catering request.
HOURS:
Open Tuesday through Saturday, 11-8
Closed Sunday & Monday
Restaurant: 252.255.2275

Catering: 252.256.2377

Email: info@highcottonbbq.com