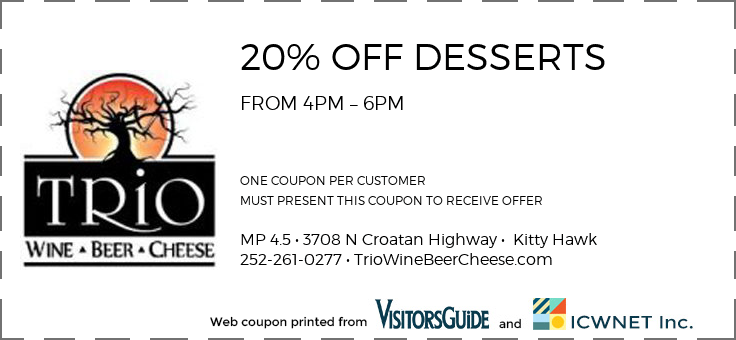 print
What is
TRiO

?

WINE, BEER, CHEESE

and more!
TRiO is an exciting retail and tasting destination with an inviting yet cosmopolitan vibe that sets us apart from other casual venues on the Outer Banks. We're all about simple pleasures, authentic flavors and good times. A place to feed your passion – for wine, beer, cheese, casually inventive food and more. Comprised of both a gourmet retail wine, beer and cheese shop as well as a bistro with a wine bar and tap house, TRiO offers the best of the worlds of wine, beer and cheese for your enjoyment on premise or in the comfort of your home. We believe that wine, beer and cheese are timeless, just like the Mother Vine represented in our logo. Read more about who we are and the story behind our logo.
More than just a restaurant and bar,

TRiO

is a gathering spot.
In the TRiO Bar and Bistro, we've created an environment that is simple and classic, yet immediately comfortable; a gathering spot for locals we see often and occasional visitors who quickly become friends. We have table and bar seating in our main bar downstairs and in our upstairs mezzanine, where we also have comfortable lounge seating perfect for group get-togethers. In keeping with our community-driven space, we regularly host
tastings
, painting parties and other
events
. We have
live music
4-5 nights a week all year round, showcasing a mix of local and visiting artists from acoustic rock to bluegrass; jazz to alternative.
In our retail store, we've gathered vast selections of
wine, beer, cheese
and more from around the corner and around the world. From quality and value, to high-end and exceptional, not to mention "Wow, I've never even heard of that one!", we've got you covered. We offer more than 2,000 wines, several hundred craft beers, dozens of artisanal cheeses hand cut to order, and gourmet food items plus all of the accessories and accompaniments to go with them. Our knowledgeable staff shares a passion for our product and is always happy to help both the novice and our more seasoned clientele in making their selections.