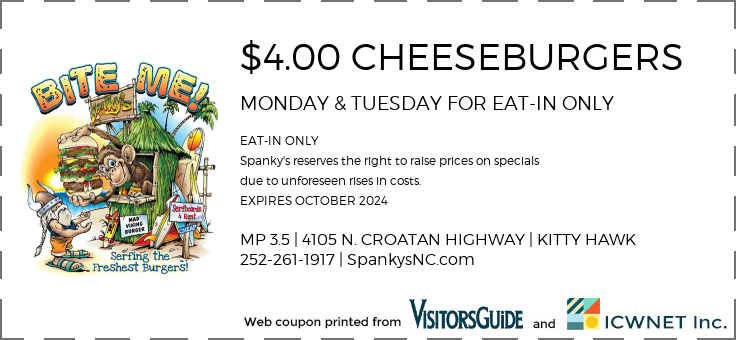 print
#1 Lunch Spot on the Outer Banks!
Spanky's Grille is the perfect spot to grab some good food at cheap prices. In fact, its slogan is "Cheap eats." Don't let the low prices fool you, Spanky's Grille has won Top 10 Burger Joints in NC the past four years in a row and Top 5 Hot dog stands five years in a row. Spanky's is the local favorite you must check out.
Spanky's has specials everyday, a refreshing change from most of the overpriced food you will find in other tourist spots. Spanky's also offers good southern comfort food for low prices at lunch time.
Spanky's also has homemade dinner specials Thursday-Saturday nights, June-August. The grille also makes homemade coleslaw and the ever sought after hush puppies. You can even get funnel fries for dessert.
Spanky's Grille offers great friendly service. Be sure to bring the whole family, and have a great time with great food and smiling faces. Most of Spanky's food is homemade, as the restaurant is family owned and run by Mr. and Mrs. Spanky themselves. Be sure browse the merchandise as well, and pick up a Spanky's Grille t-shirt! You and your family are sure to have a great time at Spanky's.


HOURS

Lunch Served Year Round 11 am-4 p.m.
Open Saturdays May-Sept
Always Closed on Sundays
Visit us @ www.spankysnc.com